Canada's Premier Ski Jumping and Nordic Combined Ski Club
Just like the Olympic Motto "Citius, Altius, Fortius", the Altius Nordic Ski Club strives for its athletes to be "Faster, Higher, Stronger".
The Nordic Ski Hoppers program is geared towards "FUN and FUNDAMENTALS". Participants are exposed to a broad range of sports and activities and cross training, including each of the Nordic disciplines. A supportive and positive environment is provided for all participants, with an emphasis on participation.
The Altius focus highlights overall physical development, enhances healthy lifestyles and leadership abilities in each participant. It also provides the base and introduces an opportunity for long-term athlete development in the sports of Ski Jumping and Nordic Combined skiing.
About the Sport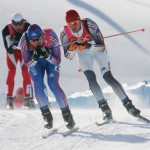 NORDIC COMBINED
In the 1800s, a small and obscure group of winter athletes traveled from ski carnival to the next in a competitive circuit. They specialized in ski jumping and cross-country skiing, two popular Nordic fields of competition. It was a show of athletic mastery and ability.
Today, competitions are won based on Ski Jumping distance and style points combined with a Cross-Country skiing time. Athletes start the cross-country race based on their jumping finishing position. The first place jumper starts first and the following skiers are staggered behind based on a point to time conversion determined from their jumping points. The first skier to finish wins the event.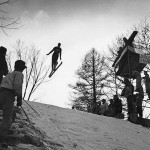 SKI JUMPING
Ski Jumping can be traced back to 1860 when Sondre Norheim of Norway, considered the Father of Ski Jumping, flew 30 meters. Check out a great article from Canada's Ski Magazine dated February 1953, to see some of the transformations over the past 57 years by downloading this article: PDF Article About The Flying Hickories.
Ski Jumping competitions are judged on distance and style points. The "K" term is the critical point between the take-off point and the point on the outrun where the hill begins to flatten out. The average takeoff speed on the K89 is 84 km/h. Jumpers follow the hill's contour and are seldom more than 3 meters off the ground. COP has 5 jumps soon to be six: K10 for beginners is under construction, the K18 for beginners, the K38 for beginner and development jumpers, the K63 for development jumpers, and the K89 for world-class international competitions. The k114 at COP is no longer operational.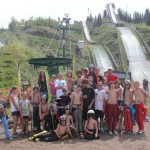 SUMMER SKI JUMPING
Ski jumping is predominantly a winter sport, performed on snow, and is part of the Winter Olympic Games, but can also be performed in summer on artificial surfaces – hard plastic tracks are used on the inrun, the landing hill is covered with a plastic turf and applied with water from a sprinkler system. COP has 4 jumps that are used frequently during the summer and fall: the K18 for beginners, the K38 for beginner and development jumpers, the K63 for development jumpers, and the K89 for world-class international competition.