Canada's Premier Ski Jumping and Nordic Combined Ski Club
Just like the Olympic Motto "Citius, Altius, Fortius", the Altius Nordic Ski Club strives for its athletes to be "Faster, Higher, Stronger".
The Nordic Ski Hoppers program is geared towards "FUN and FUNDAMENTALS". Participants are exposed to a broad range of sports and activities and cross training, including each of the Nordic disciplines. A supportive and positive environment is provided for all participants, with an emphasis on participation.
The Altius focus highlights overall physical development, enhances healthy lifestyles and leadership abilities in each participant. It also provides the base and introduces an opportunity for long-term athlete development in the sports of Ski Jumping and Nordic Combined skiing.
News
2017 AGM SATURDAY JUNE 17TH
posted May 1, 2017, 2:22 PM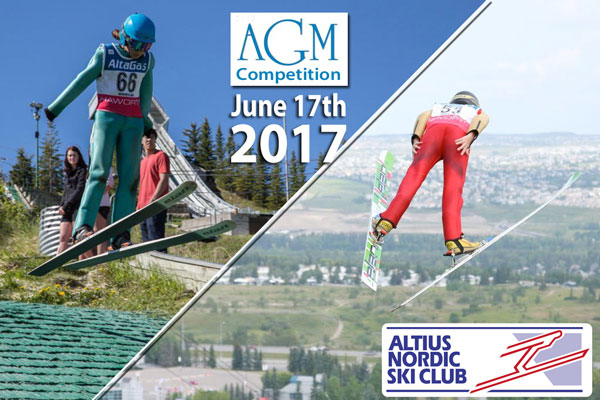 Members of Altius Nordic Ski Club,
This message is to give notice of the Annual General Meeting occurring at 9:00 AM on Saturday, June 17, 2017 in the Centre Boardroom at WinSport's Canada Olympic Park in Calgary (location to be confirmed). The agenda will follow.
We welcome your participation . Voting privileges at our meeting of members are held by the member clubs.
We have a dedicated Board of Directors and the Executive Committee that work to promote and develop the sport of Ski jumping in Canada.
All active current members are deemed to be members in good standing of ski jumping are entitled to vote at the Annual General Meeting.
All are welcome to attend.
The Altius AGM Competition will immediately follow the Annual General Meeting.
See you on the 17th!