Canada's Premier Ski Jumping and Nordic Combined Ski Club
Just like the Olympic Motto "Citius, Altius, Fortius", the Altius Nordic Ski Club strives for its athletes to be "Faster, Higher, Stronger".
The Nordic Ski Hoppers program is geared towards "FUN and FUNDAMENTALS". Participants are exposed to a broad range of sports and activities and cross training, including each of the Nordic disciplines. A supportive and positive environment is provided for all participants, with an emphasis on participation.
The Altius focus highlights overall physical development, enhances healthy lifestyles and leadership abilities in each participant. It also provides the base and introduces an opportunity for long-term athlete development in the sports of Ski Jumping and Nordic Combined skiing.
News
CANADIAN NATIONALS AND FROZEN PIPES SKI JUMPING AND NORDIC COMBINED COMPETITION
posted Sep 26, 2017, 2:15 PM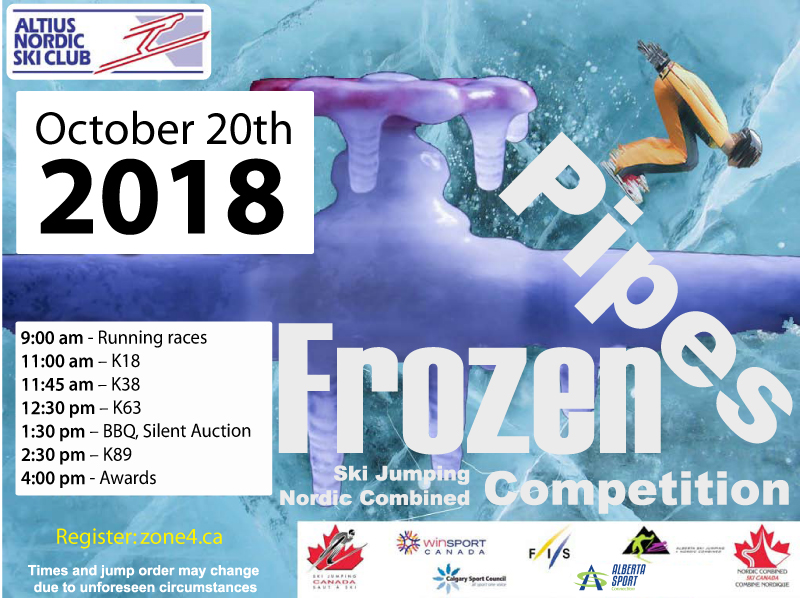 Altius Nordic Ski Club is pleased to invite you to the 2018 Canadian National Ski Jumping Championships & 2018 Frozen Pipes Ski Jumping and Nordic Combined Competition at Canada Olympic Park in Calgary, AB on Saturday October 20st.
All are welcome. Parking is available under the big jumps at COP. The event starts with the trial round at 9:00 am.
90M Women/Men National Championship
2:30

trial

3:00

first round of competition

3:20

Final round 20 min following the completion of the first round.
Junior events:
K 63M -

12:30

K 18M -

11:00

K 38M -

11:45
Running Race 9:00 in front of the jump centre at the top parking lot.
Note that this is an outdoor event. Please ask your guests to dress appropriately for the weather and wear boots or other suitable footwear. The long term weather forecast looks good, to reach the best viewing areas requires a short walk down a slope that may be snow covered (it is Calgary after all) and could be slippery.
When no weather restrictions occurs, Jumping start times will be kept precise due to many other events same day